Here is a link to the Duluth News Tribune Article about the actual event that took place on August 13, 2018
Please join the Duluth Preservation Alliance on Monday August 13th at 3:00 pm for a dedication of a new sign for the Snively Monument on West Skyline Parkway past Spirit Mountain.
Please park in the Magney Snively parking lot. You will pass by the Snively Moument and go over the Stewart Creek Bridge. Park in the lot. Then walk back to the monument. We hope to see you there for this special dedication.
A little recent history:
The old monument was forgotten, and was re-discovered by Doug Stevens in 2003, and he researched and found that it was the Snively Monument. He did a clean-up effort, and got the city involved, and the monument was restored by the city in 2014. The city had not erected a plaque to mark the monument. Through Doug's persistent efforts, he got a fundraising campaign to erect a plaque in honor of Mayor Snively.
See the Duluth News Tribune feature by Chuck Frederick on the "News" page of this website.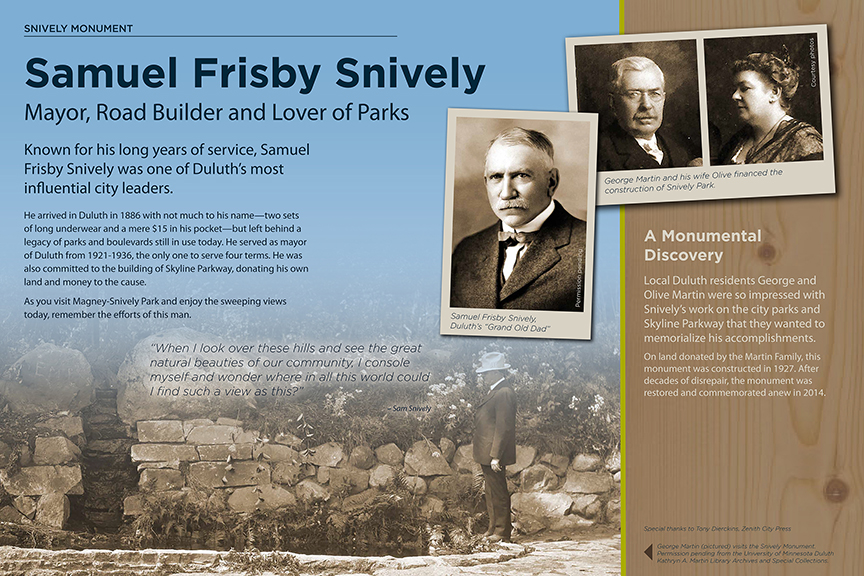 To learn more:
http://zenithcity.com/archive/parks-landmarks/duluths-undeveloped-parks/2/
If you have a Facebook, this is an entry, narrated by Doug Stevens:
https://www.facebook.com/DuluthPreservationAlliance/videos/a-look-at-the-snively/1739795379437374/