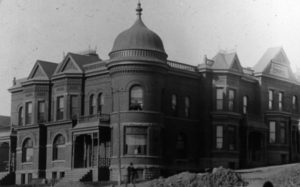 This was written by Jane Whitledge and published on February 7, 2020.
Whatever happened to the city of Duluth's plans to create an historic district downtown? A few years back, the city invited professional architects to visit Duluth, and they were impressed with our many old structures, the wonderful stone work, and the varied designs. They urged us to hold onto these buildings.
Now, we seem bent on tearing down as many as we can.
Soon we'll lose the two old buildings between the Voyageur Hotel and the Sheraton, along Superior Street at the east end of downtown.
We also see the former Kozy Bar threatened ("Lack of bond could open the door for Kozy demolition," Jan. 30). Anyone who looks at this building and doesn't see the fine character of it, despite its current disrepair, has no imagination. The building could be a real asset to our collection — albeit a shrinking collection — of historical buildings. It could be restored.
In a recent News Tribune article, a city lawyer cited upcoming events at the Clayton Jackson McGhee Memorial across First Street from the former Kozy. The lawyer suggested removing the Kozy building, inferring that it is disrespectful to the site where three black circus workers were lynched 100 years ago this summer.
But the Kozy building is visible in the notorious photo of the falsely accused men hanging from a lamppost at the site. People can be seen looking out its windows at the lynch mob below. The Kozy building places the event squarely in downtown Duluth. For this reason alone, the Kozy building ought to remain. It's a powerful visual of where this wicked act occurred.
The memorial would not be improved by the Kozy's absence; indeed, a part of it would be erased.
The presence of the building that later would be the Kozy in the photo forces us to confront our past. "Here is the place," it says. And so the memorial, Duluth's laudable work toward acknowledgement and healing, is attached to time and place.
My feeling is that corporate interests are greedy to get every square inch of old downtown they can, for their personal profit. If we lose our heritage, we lose our souls: who we were and who we are. Do we really want Duluth to become a corporate city devoid of history and charm?
Please, do not tear down the Kozy building. At one time we were going to tear down the Fitger's brewery, and look at what a success that building is today. We once were going to tear down the fabulous Central High School, a gem in the middle of our city — underappreciated when it should be showcased on postcards. Walk around it sometime; look at the details.
We can replace our city with cold glass and steel and cheap, modern buildings that last a decade or two. We can destroy old storefronts with garage-door fronts that are so faddish today. Or we can protect our history, which has stood for more than 100 years and can withstand another 100 with care. Duluth, preserve your past.
Jane Whitledge is a Duluth poet whose work has been published in literary journals and anthologies.